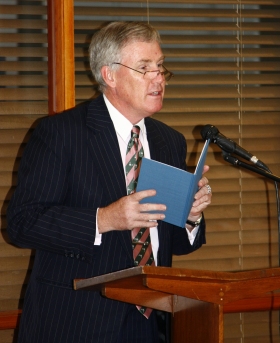 The Hon. Michael Atkinson, MP, Attorney-General and Minister for Multicultural Affairs, launched Irish poet Jennifer Liston's second poetry collection in the SA Writers' Centre, Adelaide on Thursday 4 December 2008.
Each edition includes an audio/mp3 CD of the poet reading the 17 poems. The CD also contains bonus readings of two poems from the poet's first collection,
Exposure
(2003).
Only 150 imprints of
17 poems: one for every year of innocence
have been created.
Jennifer Liston is a well-known poet and writer. One of her poems was featured in the anthology
Poems in Perspex, Max Harris Poetry Award 2007
.
White Wave Press intends to publish the poet's work in a similar format every 18 months.
Email info@whitewavepress.com now to order your copy of
17 poems: one for every year of innocence
. (Include the book title in the subject line.)